March 11 – Local Restaurants Praise President Biden, Congress For Creating Neighborhood Restaurant and Bar Grant Program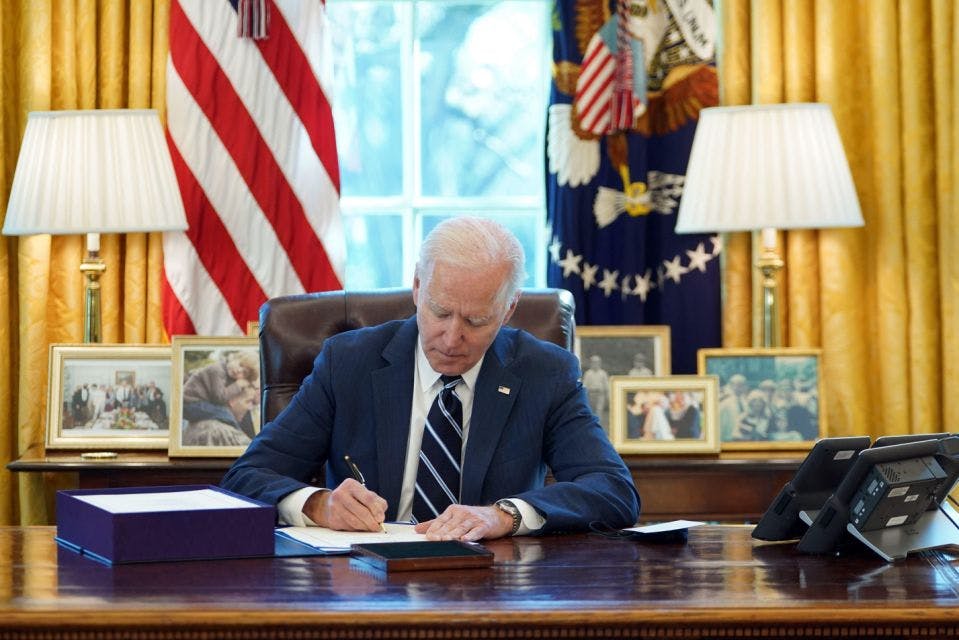 FOR IMMEDIATE RELEASE
March 11, 2021
CONTACT:
Jeff Solnet
jeff@precisionstrategies.com
Local Restaurants Praise President Biden, Congress For Creating Neighborhood Restaurant and Bar Grant Program
Independent Restaurant Coalition Initially Proposed Grant Fund in April 2020, and Launched a Grassroots Campaign to Save Restaurants that Led to Its Inclusion in American Rescue Plan
Senate Majority Leader Chuck Schumer: "Without the IRC, I don't know if [the restaurant grant fund] would have gotten done at all."
Washington, D.C. -- Today, leaders from the Independent Restaurant Coalition released statements following President Biden signing the American Rescue Plan, which includes the first grant relief fund for independent restaurants and bars. The $28.6 billion grant program is modeled after the RESTAURANTS Act, first proposed by the group in April of 2020 and championed in Congress by Senators Roger Wicker (R-MS) and Kyrsten Sinema (D-AZ), and Reps. Earl Blumenauer (D-OR 3) and Brian Fitzpatrick (R-PA 1).
"The heartbreak our industry felt everyday for the past year starts to heal," said Erika Polmar, Executive Director of the Independent Restaurant Coalition. "The $28.6 billion grant program signed by President Biden today is a gamechanger for people who depend on neighborhood restaurants and bars for their livelihood. Dishwashers, farmers, servers, florists, chefs, and millions of others in this industry will sleep a little easier tonight thanks to Congress and the White House. Independent restaurants and bars put their heads together to make this happen against all odds. Today would not be possible without the support of our champions in Congress– Leader Chuck Schumer, Sens. Roger Wicker and Kyrsten Sinema and Reps. Earl Blumenauer and Brian Fitzpatrick fought with us every day to save restaurants. The IRC will continue working closely with our champions on the Hill and in the White House to ensure the hardest-hit communities are able to access this crucial lifeline.
This $28.6 billion grant program for independent restaurants and bars in the American Rescue Plan is based on the RESTAURANTS Act, which was first proposed by thousands of IRC supporters in an April 2020 letter to Congress. Restaurant owners and operators worked directly with Senator Wicker (R-MS), and Rep Blumenauer (D-OR 3) to craft the legislation, and mobilized a grassroot movement of over 100,000 people to educate Congress on the legislation and the unique struggles facing the industry. The IRC facilitated hundreds of meetings and calls between people working in restaurants and bars and members of Congress, and sent over 100,000 emails to Congressional offices. In a recent press conference, Senate Majority Leader Chuck Schumer agreed that the IRC's grassroots efforts were instrumental to providing relief for the industry: "Without the IRC, I don't know if [the restaurant grant fund] would have gotten done at all."
"Over the summer, I testified before the House's committee on Small Businesses on the crisis restaurants were facing, and still are facing," said Amanda Cohen, IRC co-founder, owner of Dirt Candy in New York City. "In my testimony, I implored Congress to find a way to help independent restaurants. Today, I can confidently say that Congress heard me. The $28.6 billion program for our broken businesses will help countless restaurants, not only survive the pandemic, but will also make them whole again."
"While the Paycheck Protection Program failed my business, this grant program will keep my doors open," said Nya Marshall, member of the IRC Leadership Team, owner of Ivy Kitchen in Detroit, MI. "Like so many of my colleagues, my restaurant lost 85% of its revenue last year, yet I didn't receive a nickel from Washington. Today, I am more confident that I will be able to pay my outstanding bills, and employ my full staff once the pandemic ends. I am grateful for my peers in the independent restaurant and bar community, and our champions in Washington, who have been working tirelessly to deliver real help to our devastated industry."
Recently, the IRC invited over 300 members of the restaurant and bar community to discuss this new relief fund and state of the industry with the White House, including Senior Advisor to President Biden, former Congressman Cedric Richmond and Bharat Ramamurti, the Deputy Director of the National Economic Council. Congressman Richmond said this is "a necessary first step for restaurants and bars, and we look forward to collaborating with the Independent Restaurant Coalition to ensure small businesses can access this relief."
"This is more than a rescue plan. It is more than a relief package, it is literally a stimulus package that will really have an effect on the entire country's economy," said Caroline Styne, IRC co-founder and co-owner of Lucques Group in Los Angeles. "This package will be the vehicle for so many small businesses, bars, and restaurants to survive: everywhere from down south in San Diego, to San Francisco, to Sacramento, and everywhere in between. It will help those who have been unemployed for almost a year now back to their jobs."
"I am deeply grateful to the IRC, our congressional champions, and the White House for fighting for jobs like mine," said Pilar Garcia, former General Manager of Wood Fired Cantina in St. Paul, MN. "Thanks to the American Rescue Plan, countless servers, bussers, hosts, managers, chefs, and porters will not be sent to the unemployment line. These grants will lift up the entire restaurant community, and the impact of saving jobs will ripple throughout our national economy. I went into this industry because I am passionate about taking care of others; today, I am grateful our leaders are taking care of us, too."

The American Rescue Plan will ensure America's independent restaurants, bars, caterers, taprooms, food trucks, and others hit hardest by the pandemic can get the grants they need to survive. Over two million people working in restaurants and bars remain out of work since the start of the pandemic and over 110,000 restaurants have permanently closed.

This first-of-its kind grant program provides debt-free support in the amount of annual revenue lost from 2019 and 2020, with special provisions for businesses that opened in 2020 and 2019. They can only be used on eligible expenses (below) that incurred starting on February 15, 2020 and ending at the end of 2021. Unused funds– or funds not used for these purposes– will be returned to the government. These expenses include:

Payroll (excluding employee compensation exceeding $100,000/year), employee benefits, and paid sick leave;

Mortgage, rent, and utilities;

Maintenance;

Outdoor seating construction;

Supplies, protective equipment, and cleaning materials;

Food and beverage;

Operational expenses; and

Debt obligations to suppliers.
This program caters to the most vulnerable businesses: grants cannot exceed $10,000,000 per restaurant group (which cannot have more than 20 entities), and $5,000,000 per business. The Small Business Administration (SBA) will prioritize awarding grants to businesses owned or controlled by women or Veterans or socially disadvantaged businesses. More information on this grant program is available on the IRC's website.
ABOUT THE IRC:
The Independent Restaurant Coalition was formed by chefs and independent restaurant owners across the country who have built a grassroots movement to secure vital protections for the nation's 500,000 independent restaurants and the more than 11 million restaurant workers impacted by the coronavirus pandemic.
# # #