May 5 - Cholula Hot Sauce Partners with Independent Restaurant Coalition on Cinco De Mayo Virtual Event to Build Support For Local Restaurants Nationwide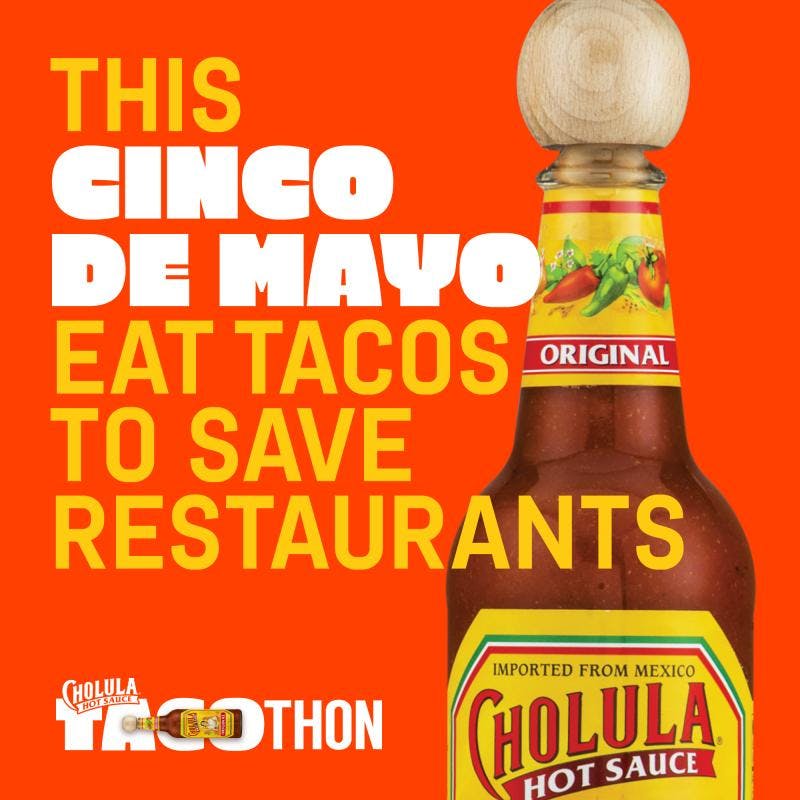 FOR IMMEDIATE RELEASE:
May 5, 2020
Press Contacts:
Robert Roberts // Robert.Roberts@bcw-global.com
212-601-3059
Jeff Solnet // Jeff@precisionstrategies.com
561-926-0909
Cholula Hot Sauce Partners with Independent Restaurant Coalition on Cinco De Mayo Virtual Event to Build Support For Local Restaurants Nationwide
Hot sauce brand celebrates Cinco De Mayo by giving up to $100,000 to support Independent Restaurant Coalition's advocacy efforts based on Instagram Live viewers from 7 to 10pm ET tonight
NBA stars Dwyane Wade & Victor Oladipo, Actress Sophia Bush, Chefs Tom Colicchio, Christina Tosi, and Aarón Sánchez all helping Independent Restaurant Coalition Fund Advocacy Efforts Across Country
May 5, 2020 - Stamford, CT - Today, Cholula Hot Sauce and the Independent Restaurant Coalition (IRC) will host a virtual "Tacothon" on Instagram Live to raise up to $100,000 to support advocacy efforts for local restaurants struggling to reopen due to the COVID-19 crisis.
"Restaurants and bars don't just feed us, they're where life happens: where you meet a first date, see old friends, celebrate important moments, or simply talk about the day with loved ones," said Miguel Leal, Chief Marketing Officer at Cholula Food Company. "Restaurants are an integral part of our society and provide millions of jobs. This is just one part of Cholula's effort, and we're proud to support our friends in the culinary community and to be part of this national movement to help them reopen and remain open."

Cholula's Tacothon kicks off tonight, Tuesday, Cinco de Mayo, at 7pm ET on Instagram Live. Celebrity partners will stream live from their individual Instagram handles. The lineup will include NBA stars Dwyane Wade, Victor Oladipo, actress Sophia Bush, alongside culinary rock stars and Independent Restaurant Coalition members Tom Colicchio, Christina Tosi, Aarón Sánchez, and more. The group will share their favorite taco recipes and celebrate live with audiences across the country.
The schedule is as follows:
7pm – 8pm ET – Christina Tosi and Victor Oladipo will co-host

8pm – 9pm ET – Tom Colicchio and Sophia Bush will co-host

9pm – 10pm ET – Aarón Sánchez and Dwyane Wade will co-host
Cholula will pledge $1 for every viewer that joins, up to $100,000 (with a minimum contribution of $50K) to support the IRC's efforts. The IRC was founded on the simple belief that there is power to affect legislative change if we unite our voice.
"Cholula understands that many independent restauranteurs are on the brink of having to close their doors permanently," said Tom Colicchio, Founding Member of the Independent Restaurant Coalition. "Right now the over 11 million servers, bartenders, line cooks and baristas you used to see every week are out of a job. Creative collaborations like this will help a larger audience of people understand what's at stake and hopefully encourage them to tell Congress to act. We're proud to have Cholula as a partner in our fight to give our favorite restaurants a fighting chance."
Independent restaurants contribute close to $1 trillion to the economy— or up to 4% of GDP— each year. A recent study conducted by the IRC indicates that 80% of independent restaurant owners, in heavily impacted areas, are not certain they will be able to reopen after the crisis.
Last week, the IRC sent a letter to Congress calling for the creation of a stabilization fund that would help give independent restaurants the resources needed to reopen.
Cholula is also working to support local restaurants and front line workers through Operation Taco Tuesday, which brings tacos & Cholula Hot Sauce to medical staff and essential workers at different hospitals every Tuesday. You can read more about Operation Taco Tuesday on Cholula's Instagram Page.
More information on the Independent Restaurant Coalition is available at: www.Saverestaurants.com.
###
ABOUT CHOLULA HOT SAUCE
Cholula Hot Sauce is the delicious result of a recipe using a blend of arbol and piquin peppers along with a creative mix of spices and inspired by its rich Mexican heritage. The iconic wooden cap represents the true commitment to craftsmanship behind every product. In addition to the Original recipe, the product line includes five additional varieties – Chipotle, Green Pepper, Chili Garlic, Chili Lime and Sweet Habanero, which can be found at retail and in food service establishments nationwide. For more information about Cholula Hot Sauce, check out www.cholula.com.
ABOUT THE INDEPENDENT RESTAURANT COALITION
The Independent Restaurant Coalition was formed by chefs and independent restaurant owners across the country who have built a grassroots movement to secure vital protections for the nation's more than 500,000 independent restaurants and the more than 11 million restaurant workers impacted by the coronavirus pandemic. The Coalition's leadership team includes José Andrés, Naomi Pomeroy, Kevin Boehm, Nina Compton, Andrew Carmellini, Ashley Christensen, Tom Colicchio, Rosa Garcia, Sean Brock, Suzanne Goin, Will Guidara, Camilla Marcus, Mason Hereford, Ivy Mix, Mike Lata, Sam Kass, Kwame Onwuachi, Patrick Phelan, Amanda Cohen, Steven Satterfield, Jill Tyler, Michael Shemtov, Nancy Silverton, Gregory Gourdet, Frank Stitt, Bobby Stuckey, Caroline Styne, and Andrew Zimmern.