November 12 — Texas Restaurants Urge Senator Cornyn to Refill Federal Relief Program He Supported in 2020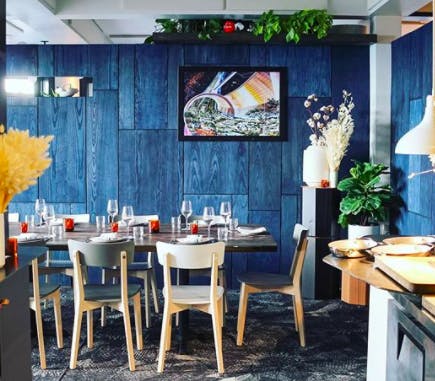 FOR IMMEDIATE RELEASE
November 12, 2021
CONTACT:
Jeff Solnet
jeff@precisionstrategies.com
Texas Restaurants Urge Senator Cornyn to Refill Federal Relief Program He Supported in 2020

Approximately One in Four Texas Restaurants Applied for Federal Relief and Are Still Waiting for a Grant after Restaurant Revitalization Fund Closed
Senator John Cornyn (R-TX) Supported a $120 Billion Restaurant Grant Program in 2020, but is Not Supporting Restaurant Relief in 2021
***Click Here to Watch***
WASHINGTON, D.C. – Today, Texas restaurant owners struggling to keep their doors open joined the Independent Restaurant Coalition to call on Congress and the Biden administration to refill a federal relief program for neighborhood restaurants, the Restaurant Revitalization Fund (RRF). The bipartisan Restaurant Revitalization Fund Replenishment Act would allow the Small Business Administration to finish processing applications from nearly 200,000 eligible businesses that applied for relief, including 12,055 restaurants and bars in Texas. Senators John Cornyn (R-TX), Ted Crux (R-TX), or the Biden Administration have given no indication that they support legislation to provide additional funding to the program despite wide bipartisan support."
"So many restaurants are still on the brink," said Jason Dady, Owner of Jason Dady Restaurant Group in San Antonio. "It's critically important that Senators Cornyn and Cruz wake up and smell the coffee of the real desperation that is the real life of people in this industry - the independent mom and pop shops that go to work every day."
Texas is home to over 48,000 restaurants, which employed over 1.4 million people before the pandemic. Just 6,406 Texas restaurants received an RRF grant this year, but 12,055 other restaurants were left behind in the first round of funding and are in danger of permanent closure.
"Over 12,000 of Texas' restaurants expected help this summer– they are still waiting on Sen. Cornyn needs to step up and deliver," said Erika Polmar, Executive Director of the Independent Restaurant Coalition. "His support of restaurants and bars earlier this year helped thousands of Texas businesses stay afloat– it's not fair to leave others behind. Texas restaurants and bars have put off rent, supplier, and utility payments for 20 months and many of them have not received meaningful relief. Our grassroots network will not stop fighting until every restaurant and bar who needs help, gets it."
Today the Restaurant Revitalization Fund Replenishment Act, which would provide an additional $60 billion in funding to the Restaurant Revitalization Fund, is gaining rapid bipartisan support in Congress, but Sens. John Cornyn (R-TX) and Ted Cruz (R-TX) have not indicated whether they support the proposal. At least 223 members of the House of Representatives and 43 members of the Senate have indicated their support for the bill, which was introduced by Sens. Roger Wicker (R-MS) and Kyrsten Sinema (D-AZ) in the Senate and Reps. Earl Blumenauer (D-OR-3) and Brian Fitzpatrick (R-PA-1) in the House.
Sen. Cornyn was a cosponsor of the $120 billion RESTAURANTS Act of 2020 and voted on an amendment to include the $28.6 billion Restaurant Revitalization Fund in the February 2021 federal budget.
"Just because a restaurant looks busy doesn't mean that it really truly is. A lot of us are playing the game of smoke and mirrors," said Michael Fojtasek, Owner of Olamaie and Little Ola's in Austin. "We're trying to do the best that we can to take care of our communities and our employees — and we need Senator Cornyn to take care of us and support refilling the RRF."
Restaurants and bars are struggling to survive as the Delta variant threatens to push more restaurants and bars into permanent closure.
Over 86% of restaurant and bar owners report concern they will close without an RRF grant according to an IRC survey.

Nearly 1 in 5 (18.3%) of restaurant owners reported having their credit scores reduced below 570 during the pandemic — many of these operators cannot take on any more loans.

According to a recent survey, at least 60% of adults changed their dining habits due to the Delta variant.

The prices of supplies have surged in the last year including beef and veal (57%), grains (55%), eggs (36.7%) and shortening and cooking oil (41.5%)

These businesses have a pile of debt that is continuing to build — 51% of restaurants could not pay their September rent.
The Small Business Administration closed the RRF application portal, leaving over 177,000 restaurants and bars that applied for relief out in the cold. Restaurants and bars lost over $280 billion during the pandemic yet only received $28.6 billion in targeted relief.
"By the time I got all the paperwork together, the RRF had closed and ran out of money. I didn't think it would run out of money that quickly," said Jam Sanitchat, Owner of Thai Fresh in Austin. "Sen. Cornyn must make sure we get help. I've known people who've closed, I know people who are struggling and need the funding now or they won't be able to continue. We really need the help."
Suppliers are joining together to push for restaurant relief as well. Recently, nearly 30 winemakers, restaurant suppliers and trade groups, including Toast, Baldor Foods, US Foods and DoorDash called on Congress to refill the Restaurant Revitalization Fund (RRF) in a letter sent to Congressional leadership by the Independent Restaurant Coalition (IRC). These organizations, representing many of the five million workers restaurants support through the supply chain, cautioned Members of Congress about the cataclysmic effects allowing restaurants and bars to close would have on their businesses.
ABOUT THE IRC:
The Independent Restaurant Coalition was formed by chefs and independent restaurant owners across the country who have built a grassroots movement to secure vital protections for the nation's 500,000 independent restaurants and the more than 11 million restaurant and bar workers impacted by the coronavirus pandemic.
###